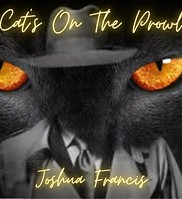 La prima cosa bella...
Ascoltate la fantastica interpretazione di Joshua Francis del brano "Cat's on the prowl", canzone jazz blues, frutto della collaborazione con il paroliere americano John Quick.
L'incipit del brano è la prima cosa che ho scritto in vita mia, avevo circa 12 anni, la canzone poi si è evoluta nel tempo fino a che ha preso la sua forma definitiva con le liriche di John Quick.
Il testo ha un doppio significato: oltre a riferirsi al gatto vero e proprio la parola "cat", usata come termine gergale, si può riferire anche ad un "gangster", ad un tipo "figo"(cool cat)...
"Someone, usually a man, who is regarded as hip and cool. ("Cat" as a slang term for a man is commonly associated with jazz music.)"
Joshua Francis è un cantante inglese di rock'n'roll, blues e folk che svolge una ricca attività musicale, potete visitare il suo sito
https://sirjoshuafrancis.wixsite.com/thegoodlordprotector
La prima cosa che ho scritto ad oggi è anche la mia canzone più interpretata, potete ascoltarne una versione su YouTube di Chris Weeks e, una versione di questo brano interpretato da Chiara Talone, è anche presente nell'album "The other side of the attic", raccolta di ballads e canzoni pop rock, musica jazz, musica allegra e country.